We are Eggert Pálsson and Sigrún Einarsdóttir.
Eggert is born in Ytra-Bjarg and lived there to 1976 when moving to Bjargshóll.
Sigrún is born in Ólafsfjörður, a town in the Nort-East but brought up in Akureyri.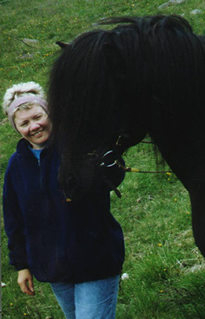 Sigrún er fædd í Ólafsfirði en ólst upp á Akureyri.
Sigrún er aðstoðarskólastjóri í Grunnskóla Húnaþings vestra, en veturinn

We have 3 children:
Beggi who is married to Vicky (Greif) Eggertsson in Germany. They run a horse farm there Lotushof in the south of Berlin. Pictures

Next is Einar Páll. He is studying Global transport engineering in Denmark. He has a daughter, Embla Líf born in 2001 and she is of course the cutest one you´ve ever seen.

Þórunn (Thórunn) is the youngest. She became a teacher in 2006 and in 2007 finished her master degree in Personal management in the University of Iceland. She is a teacher in Norðlingaskóli in Reykjavik.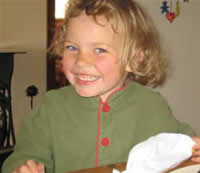 In Bjargshóll we have 250 sheep and about 100 horses. Then we have an icelandic dog, Spori. In the wintertime Eggert is working in the sheephouse and the stables and training horses which are in there. Sigrún is vice principal in the elementary school in the area.
In the summertime June, July and August, Eggert is very much away, because then he is guiding horse-tours for Arinbjörn Jóhannsson in Brekkulæk with Herdís Brynjólfsdóttir as an interpreter. The first weekend in October they also go one trip with tourists in Viðidalur to round up horses. That trip is in cooperation with the Tourist Farm in Dæli and Íshestar tours.
The horses we use are almost only our own horses and very often the tourists fall in love with some horse they have had in the trips and buy that one in the end of the tour.